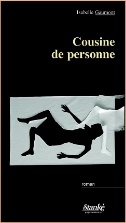 Earlier in her career, she wrote and produced two one-woman shows - Élucubrations Féminines and Gaumontville (in 2000 and 2001 respectively), both of which reflected a desire to mix social commentary with comedy, and the latter of which was nominated for the "Chapters" Prize For Best Writing at the 2001 Montreal Fringe Festival.
Offers for television writing soon followed. Her first sitcom experience was writing for SRC's hugely popular Un Gars, Une Fille (she also played several characters on the show). In addition, she has written for SRC's Et Dieu Créa Laflaque, several children's shows and more, including a series of short, funny interstitials about women in the new millennium that she also hosted, which aired to critical acclaim on Canal Vie.
In her parallel career as an actor, she has played characters on both the small and big screens, including varied (and varying) roles in La Galère, Naked Josh, Détect Inc, Les Hauts Et Les Bas De Sophie Paquin, Smash, Mystery Hunters, Horloge Biologique, and about thirty others.
Meanwhile, moved by the success of her two one-woman shows, as well as growing noteriety as a short-story writer, she decided to write a socially-biting, brutally funny novel about the Quebec acting industry. Published by Les Éditions Internationales Stanké, Cousine de Personne received rave reviews, and was nominated for the prestigious Prix De La Relève Archambault in April, 2006.
Isabelle recently completed her second novel (Subordonnée), published by Hurtubise HMH in September 2007, and is now working on the feature-film version of Cousine de Personne. In addition, her first short film (Cinquante) is currently in pre-production.